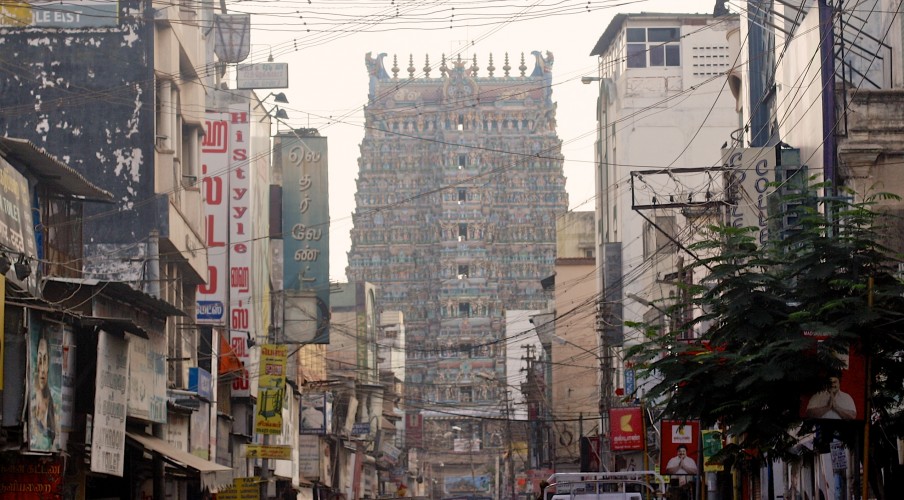 [Guest Post: Jim Kast-Keat]
It was an unintentional irony that I found myself reading about atheism while visiting a country that has thousands of gods. The book was "Suspicion and Faith" by Merold Westphal and the country was India.
Westphal's book explores the religious uses of modern atheism, focusing on the religious critiques of Freud, Marx, and Nietzsche. While Christians are often prone to run from these "secular magi," Westphal encourages us to hold their atheist critiques as a way to confront (and perhaps comfort) our Christian faith. These three are often lumped together in their joint practice of the hermeneutics of suspicion, "The deliberate attempt to expose the self-deceptions involved in hiding our actual operative motives from ourselves, individually or collectively, in order not to notice how and how much our behavior and our beliefs are shaped by values we profess to disown."1

My trip to India was with a group of seminary students, an intercultural immersion where we would experience the Christian faith in a Hindu culture and the Hindu faith in its own culture. Always eager for interfaith experiences, I was especially anticipating these ten days. We would be traveling through South India, visiting various Christian churches and the largest Hindu temple in the country. We would meet people from a variety of contexts and eat a lot of good food along the way.
My reflections on the irony between my book and our trip began before I even set foot in India. I was on the (long) plane ride across the Atlantic and Europe when another person from my group noticed what I was reading. "That's great," he said. "More Christians should read about atheism so we know how to talk to atheists."
That's not why I was reading this book. While some Christians will seek out the pioneers of modern atheism only as fuel for a refutation, I was not. It is too easy and too common to fearfully react to this hermeneutic of suspicion with a hermeneutic of certainty. Rather than allowing ourselves to expose our self-deceptions, we convince ourselves that we know what we know. Instead, what we need is a hermeneutic of curiosity, an openness and playfulness with whatever we encounter and whatever we already hold. Rather than reacting in fear or being stuck in the rut of our certainty, we curiously explore the world, even (or especially) the likes of Freud, Marx and Nietzsche, along with foreign cultures,  ideas, and faith traditions. This world is not one to be lived in fearfully, but rather with wonder; we are not created to be stuck in certainty, but steeped in curiosity.
One of our days in India was spent touring through and wandering around the Meenakshi Amman Temple in Madurai. This temple has seven giant towers, thousands of pillars, and a seemingly infinite number of statues and shrines. We saw a long line waiting to visit the ancient shrine at the center of the temple. We saw people genuflecting before various shrines and statues. We saw groups of Hindu men visiting the temple as a part of their annual pilgrimage. We saw tourists from around the world gazing at the beauty and architecture that comprises the temple. We even caught a brief glimpse of an elephant.
That night our group debriefed the temple experience. Some from our group commented on the architecture and wonder that fills such an ancient and sacred space. Others commented on how it helped them understand what the culture of the temple in Jerusalem might have been like (minus the many graven images). And others reflected on the day by voicing their sadness that so many people are committed to something "fake," worshiping gods that are "make believe," and devoting their lives to something that "just isn't real."
This final reflection is the hermeneutic of certainty all over again. Rather than learning from the other, we move so easily and too quickly to judge and dismiss them as "different," not realizing that the very things we're accusing them of—fake; make believe; just isn't real–are the very things Christians are often accused of. Rather than being open to learn from others, we shut them out.
I would rather be curious than certain. I would rather grow and learn than shrink or remain static. I would rather be filled with wonder and awe at how infinite reality is than draw lines in the sand and dare others to cross them. Whether reading about atheism or experiencing Hinduism, I want to be a Christian who holds a hermeneutic of curiosity instead of a hermeneutic of certainty.
Certainty is a rigid science.
Curiosity is a playful art. 
Certainty is the end of exploration.
Curiosity is its beginning. 
Certainty ends a debate.
Curiosity begins a dialogue. 
Certainty knows what it knows.
Curiosity knows there is always more to know.
May we be people who are infinitely curious—always learning, growing and allowing space for the awe and wonder that is the ever-curious Spirit of God.
[Jim Kast-Keat is a divergent thinker, ideation specialist, and aspiring minimalist. After working at Mars Hill Bible Church for over half a decade, he moved to New York City with his wife, Jes, where he works as an Associate Minister for Education at @MiddleChurch. In his spare time, he concocts ideas for ikonNYC, including the latest iteration of Atheism for Lent (find out more at www.pyrotheology.com). To see more pictures from his aforementioned trip to India, head over to www.jimkastkeat.com/blog/india]
photo credit: Jim Kast-Keat
Merold Westphal, "Suspicion and Faith: The Religious Uses of Modern Atheism" (New York: Fordham University Press, 1998), 13. [↩]